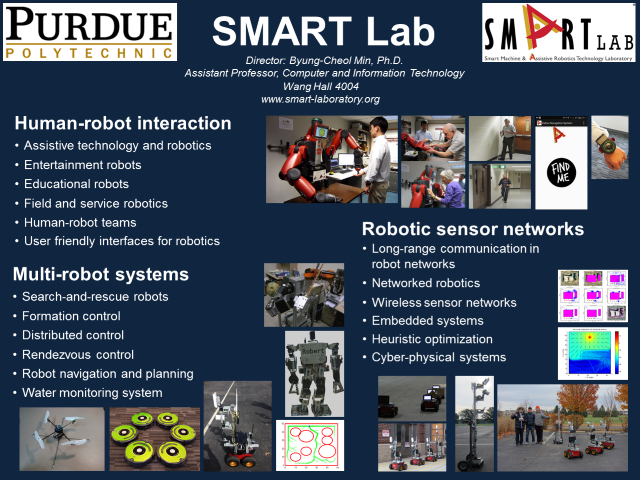 Research in the SMART Lab is focused on the discovery and application of robotic technology to the point where it can be more widely applied everywhere and for everyone. This includes in developing countries, rural areas, dangerous situations, and for the elderly and people with disabilities. To do so, we combine the practical and theoretical for maximal impact, and the scope of our research includes robotic fundamentals to robot development, as well as system design and integration of robotics technology and algorithms. Our research interests are in the area of assistive technology and robotics, field and service robotics, sensor networks, and human-robot interaction. Please visit the links on the left of this page and the publication section for information regarding specific projects ongoing in the SMART Lab.
The SMART Lab operates its own YouTube Channel where you can watch lab's past and current project demo videos and its introductory video, etc. Also, the lab operates its own GitHub repositories where you can check out and download lab's past and current project programming codes. To visit our YouTube Channel and GitHub repositories, click the logos below!
Current Funded Research Projects in the SMART Lab are:
CPS: Medium: Collaborative Research: Closed Loop Sustainable Precision Animal Agriculture, Role: Co-PI (PI: Richard Voyles), Sponsor: National Institute of Food and Agriculture, Amount: $541,448 (09/01/2018 - 08/31/2021). (Link)



PFI-RP: Partnerships for Innovation in Interoperable Building Information Modeling Technology for Applications in Automated Building Code Compliance Checking and Modular Construction Automation, Role: Co-PI (Jiansong Zhang), Sponsor: National Science Foundation, Amount: $749,770 (09/15/2018 - 08/31/2021). (Link)



Mobile Crowd Sensing for Sustainability Challenges: A Behavioral Approach to Inducing User Participation, Role: Co-PI (David J. Yu), Sponsor: Purdue Center for the Environment, Amount: $15,000 (06/01/2018 - 06/30/2019).



FY18-19 PRF Research Grants: Towards Autonomous Robotic Systems for Control of Harmful Algae Blooms, Role: PI, Sponsor: Purdue University, Amount: $30,144 (05/10/2018 - 09/14/2019).



17-18 Laboratory and University Core Facility Research Equipment Program, Role: PI, Sponsor: Purdue University, Amount: $83,500 (01/01/2018 - 12/31/2018). (Link)



UNSA NEXUS: Robotic Water Quality Monitoring and Distribution Systems: A Pilot Study, Role: PI, Sponsor: Universidad Nacional de San Agustin, Amount: $365,439 (01/01/2018 - 12/31/2019). (Link)



Cybersecurity and Safety Challenges in Autonomous Vehicles: Threats Identification and Countermeasures Development, Role: PI, Sponsor: National Institute of Justice, Amount: $100,000 (08/01/2017 - 07/31/2019).
Workshop to Explore US/Korean Collaboration in Human-Friendly Co-Robotic Technologies, Role: Co-PI (PI: Richard Voyles), Sponsor: National Science Foundation, Amount: $14,980 (09/01/2017 - 08/31/2018). (Link)



I/UCRC Phase I: Robots and Sensors for the Human Well-being, Role: Senior Personnel (PI: Richard Voyles), Sponsor: National Science Foundation, Amount: $572,202 (09/15/2014 - 08/31/2020). (Link)